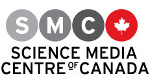 Science Culture: Where Canada Stands  | SMCC Webinar | 12:00 PM ET, Wednesday, August 27, 2014
How do Canadians use, think about, and interact with science? How do we compare with our peers in other developed nations? Are we ready to embrace science for the future of our country? These are just some of the questions addressed in Science Culture: Where Canada Stands, a new report released on August 28th by the Council of Canadian Academies.
The report paints the clearest picture of Canada's science culture in 25 years. Most notably, it contains the results of a new public survey that assesses Canadians' science attitudes, engagement, and knowledge. It also assesses Canadians' science skills and examines strategies that can be used to cultivate and sustain a strong science culture for years to come.
On August 27, the Science Media Centre of Canada held an embargoed webinar in advance of the report's release where journalists can hear from some of the members of the expert panel that produced the report:
Arthur Carty is the Executive Director of the Waterloo Institute for Nanotechnology and was chair of the expert panel. He has also served as chair and/or member of numerous boards at many organizations, including the Canadian Nuclear Safety Commission, the Canadian Space Agency, Genome Canada, Mitacs, and was the Founding Chairman of the Canadian Light Source.
Marc LePage is President and CEO of Génome Québec. He is an expert in international partnerships and, since 2009, served as Special Advisor, Climate Change and Energy for the Embassy of Canada in Washington, D.C.
Jay Ingram is Chair of the Science Communications Program at the Banff Centre; he's also a former co-host of Discovery Channel's "Daily Planet" and a former host of CBC Radio's "Quirks and Quarks". He's published 12 twelve books, and received numerous accolades and awards for his outstanding contributions to the popularization of science.
____
To see a copy of the slides from the webinar, click here.
To hear the audio, click below
___
Infographics summarizing statistics from the report are also available; they should be credited to the Council of Canadian Academies: