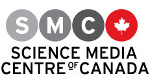 EcoHealth –  Emerging Diseases, Human Health and the Environment | SMCC Webinar | 12:00 PM ET, Thursday, August 7, 2014
Ebola, MERS and SARS – as we worry about the next pandemic and the spread of already established diseases, researchers are looking beyond the traditional public health initiatives of vaccines, antibiotics and pesticides. The field of 'ecosystems and health' (EcoHealth) recognizes that human health cannot be separated from the environmental and social factors that influence it.  As climate change alters the range of mosquitoes and ticks, devastating illnesses like malaria, lyme disease and Chagas disease spread to vulnerable populations. Human activity also influences the spread of environmental toxins like lead and mercury, which impact human development.
On August 11 – 15, 2014 researchers from around the world gathered in Montreal for the 5th biennial conference of the International Association for Ecology and Health. On August 7, 2014, the Science Media Centre of Canada gathered a panel of experts from the conference to discuss issues such as:
How studying human-animal interactions can prevent outbreaks of diseases like Ebola
How plaster and chicken wire can reduce the spread of Chagas disease in Latin America
The source of toxins like lead and mercury in some of Canada's aboriginal communities, and how exposure can be reduced
Join us for a webinar featuring speakers from the conference to learn more about how an EcoHealth approach can help solve human health problems around the world.
Speakers:
Andrés Sánchez is the Acting Program Leader for the Ecosystems and Human Health (Ecohealth) program of Canada's International Development Research Centre (IDRC). He will present a short overview of key principles behind the growing field of research, education and practice addressing health and environmental problems associated with the interaction between societies and ecosystems.
Jonathan Epstein is a veterinary epidemiologist and Associate Vice President of the EcoHealth Alliance, an international organization of scientists researching the relationships between wildlife, ecosystems and human health. He will discuss his work studying the ecological and human factors that drive emerging diseases, including bat-borne viruses such as Nipah virus, SARS-like coronavirus, and Ebola virus, and how the knowledge gained from such studies could be applied to the current Ebola outbreak in West Africa and help us prevent additional outbreaks and the emergence of new viruses.
Maria Carlota Monroy is founder and senior researcher at the laboratory of Applied Entomology and Parasitology at San Carlos University, Guatemala. Her research focuses on simple, low-cost interventions  to prevent the spread of Chagas disease, a parasite-driven illness which affects 10 million people in Latin America.
Myriam Fillion is a post-doctoral researcher at the University of Ottawa who studies exposure to environmental contaminants such as lead and mercury. She will discuss her recent research on the levels of lead in aboriginal populations in the Canadian Arctic and investigations to find the source of the contamination.
__
For Andrés Sánchez's presentation, click here.
For Jonathan Epstein's presentation, please contact him.
For Maria Carlota Monroy's presentation, click here.
For Myriam Fillion's presentation, click here.
To hear the audio from all presentations, click below.