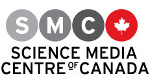 Lac-Mégantic, One Year Later | SMCC Webinar | 12:00 PM ET, July 2, 2014
On July 6, 2013, a 72-car runaway freight train rolled into the town of Lac-Mégantic, QC. There it derailed and its cargo – crude oil extracted from the the Bakken formation, near North Dakota – exploded, destroying large parts of the town and killing 47 people. In addition to being one of the deadliest train accidents in Canadian history, it was also one of the the worst petroleum spills on land recorded in Canada. Along with later incidents in Plaster Rock, New Brunswick and Casselton, North Dakota, the accident has shone a strong spotlight on the safety issues involved in shipping oil by rail.
One year later on July 2, 2014 the Science Media Centre of Canada assembled a panel of experts to find out what we have learned from the accident. They addressed issues such as:
What do we know about the nature of the crude being shipped by rail? What do we know about the effectiveness of safety features built into tank cars?
What is currently known about the impact of the Lac-Mégantic accident on the environment?
What emerging technologies can help prevent such derailments in the future?
Speakers:
Jean-Paul Lacoursière, Associate Professor of Chemical Engineering, Université de Sherbrooke. Lacoursière is an expert in process safety and risk assessment. He spoke about the state of science around oil flammability testing and discuss the safety features of tanker cars that are relevant to the accident.
Rosa Galvez-Cloutier, Professor of Civil Engineering, Université Laval. Galvez-Cloutier is an expert on environmental impacts evaluation of hazardous products, including oil spills, and has published scientific papers on the Lac-Mégantic disaster. She discussed her research into the environmental effects of the spill.
Bill Hjelholt, Director of Freight Rail, Americas, AECOM. Hjelholt is a Senior Vice-President with over 15 years of experience in the freight rail industry, including design of rail facilities, track routing, control systems and environmental assessments. He discussed emerging technologies that can help prevent future derailments such as electronic track inspections, braking technologies, signaling and control.
___
To view Prof. Lacoursière's presentation, click here.
To view Prof. Galvez-Cloutier's presentation, click here.
To view Mr. Hjelholt's presentation, click here.
To listen to the audio from all three presentations, click below: